Before the expansion of various cities and provinces, the Phnom Baseth region was considered almost off the grid to Phnom Penh's proximity. Now, its promise is being realised as Phnom Penh continues to expand and Phnom Baseth's investor appeal increases.
Currently an object of interest for investors, this previously void-of-activity region is seeing an overhaul of land purchases by the hectares which are being divided into smaller plotted land. Most of these land transactions, however, are not with residential purposes in mind; they are being sold to small-time business people who are opening up businesses by the dozens.
Mann Chandy, CEO of Premium Housing Co. Ltd. which has invested nearly $1 million just to section off land plots for sale, told Post Property earlier this week that the area was gaining proximity to Phnom Penh city because of its location in Ang Snoul district – which is adjacent to Khan Prek Pnov and Khan Por Sen Chey, a new district in Phnom Penh city.
Phnom Baseth's exact location is in Makak and Toul Prech village in Kandal province's Ang Snoul district – adjacent to National road 51, which cuts through Oudong district, going towards Ang Snoul district on National Road 4.
He also noted that the area is located a mere 20 kilometres from Phnom Penh, and is rapidly developing thanks to the presence of a road running through it. While an electricity system has been established gradually, no clean water system is yet in existence.
"The land here is raised, so it isn't likely that it will be affected by flooding, which helps the investors in this area to curb on spending money on land filling; nevertheless, there is yet to be signs of any major investment coming to this area."
Chandy recognised the potential the region holds, fuelling his pragmatism in selling off sectioned lands to people of the middle and low income brackets. One small plot of land, according to Chandy, can sell from anywhere between $2,700 and $5,000.
Going further, he expressed optimism that the near future would see the region inducted as part of Phnom Penh city, since this area is already located next to the capital's Khan Por Sen Chey and Sangkat Prek Pnov, and Kandal province's Sangkat Snor and Sangkat Ponhea Pon.
Pith Sereivath, head of the advisory board of WHP Realty Co. Ltd., said he was currently analysing a number of land plots to offer to foreign investment groups.
"The expansion of National Road 5, and the development plans along this particular road, will help push the speed of improvement of Phnom Reap, and Phnom Baseth area, because the infrastructure of the area is currently being organised," he continued. "The affordable pricing of the land in this area will also attract investors to invest due to such prices."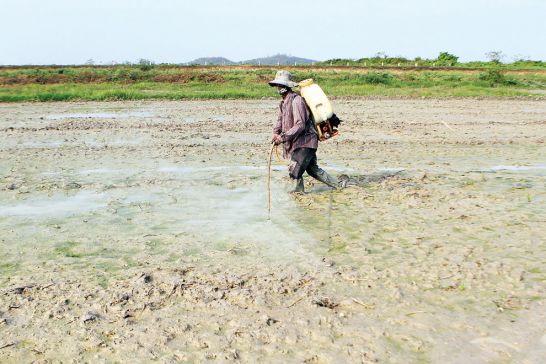 Pech Sreyvan, a native of Srae Don Toch village in Khan Prek Pnov – a sangkat that has been recently included as part of Phnom Penh city located right next to Phnom Baseth – said she perceived this area as one that was constantly changing.
"The living standards of the people here are much better than before, as the people now have small plots of land to sell or to conduct various businesses," she said, adding that there have been a lot of investors from Phnom Penh coming to buy land property in this area, then sectioning them off for sale afterwards.
Nevertheless, officials have given a more substantiated and official view of whether Phnom Baseth would, in the future, become part of Phnom Penh.
Deputy governor and City Hall spokesperson, Mean Chanyada, stated that in the city's most updated master plan – titled Phnom Penh Land Use 2035 – the city has no propositions to include the area into Phnom Penh, focusing instead on strengthening its effectiveness in managing all 20 communes that had recently been cut into the Phnom Penh.
"In that, the administrative officials of Phnom Penh city hall want to organise everything into an orderly fashion first, as some areas are still to be properly coordinated," he said.
Source From: The Phnom Penh Post